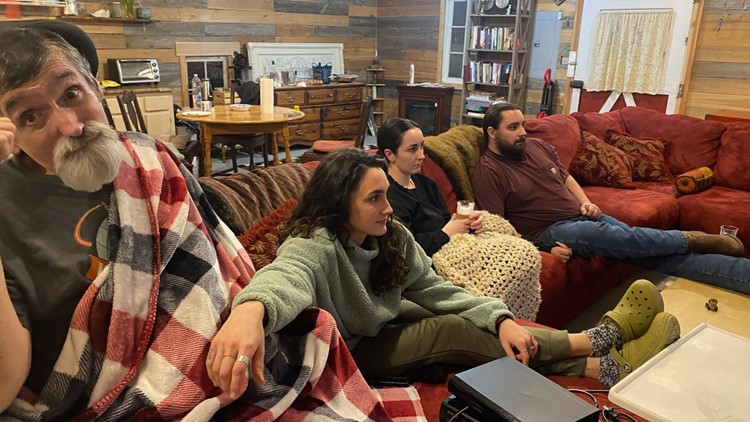 Twenty years ago Monday, Clackamas County deputy Damon Coates was shot in the face and paralyzed by a teenager in the midst of a mental health crisis.
PORTLAND, Ore. — This week, the family of Damon Coates marked a bittersweet anniversary. Twenty years ago on Monday, the former Clackamas County Sheriff's deputy was shot in the face by a 15-year-old who struggled with drugs and mental illness.
The case serves as a reminder that some of the issues that Oregon struggles with today — substance abuse, mental illness and gun violence — have been around for a long, long time.
KGW's Pat Dooris knew Coates before the shooting. He was the public information officer for the Clackamas County Sheriff's Office, so Dooris had interviewed him many times prior.
Many people expected Coates to die that first night after the shooting. He survived. Some thought he'd die in the days, weeks, months and years that followed. He's still alive, though unable to speak and confined to a wheelchair.
The teen who shot Coates is Nick Teixeira. After the shooting, Teixeira was found guilty except for insanity on charges of attempted aggravated murder and first-degree assault. He was sentenced to 20 years under the supervision of Oregon's Psychiatric Security Review Board. He spent years in a number of settings, including the Oregon State Hospital, receiving treatment for his mental illness.
On Monday of this week, with some of his time reduced for good behavior, Teixeira's 20 years were up. The review board released him from its custody. It's an odd coincidence that this was also the 20-year anniversary of the shooting.
Teixeira is now free to go where he wants and do what he wants. His last known address was in Linn County.
Even though Teixeira can now try to move on, the damage to Coates and his family endures. There is no release for their pain — and after 20 years, it appears that their burden is harder than ever to endure.
20 years of 'one day at a time'
"We are speculating he may have actually been carrying the gun, accidentally fired the weapon, possibly hit the floor and then the victims," Coates can be heard saying in archived KGW video.
Damon Coates' public-facing role with the Clackamas County Sheriff's Office means that there is plenty of footage showing him from before the shooting. That's how Pat Dooris remembers him: Confident and eloquent, he helped the public understand the latest details being released by law enforcement.
Later Coates switched to a different role with the agency and responded to calls for help. One of those calls brought him to the home of Nick Teixeira's mother on Jan. 9, 2003.
Teixeira was in the midst of a psychotic episode, exacerbated by his drug use, that had gone on for several days. When he turned up at his mother's house that day, he was out of control.
Coates arrived to confront Teixeira, but did not think the 15-year-old was armed. As he went to pat the teenager down to make sure, Teixeira pulled out a handgun and shot Coates in the face. Another officer shot Teixeira.
After the shooting, Coates suffered a stroke and was partially paralyzed.
On Tuesday, Pat Dooris visited the Coates home to talk with Damon's wife, Tammy, to see how they are holding up all these years later.
"I'd say pretty good. Would you say pretty good? Yeah. We're makin' one day count. One day at a time. A little difficult," Tammy said. She periodically addressed Damon in his chair nearby, including him in the conversation.
"We had three of the four kids over and spend it with us," she continued, talking about the anniversary of the shooting. "And we got to watch some videos and so that kind of was a good spot for us, for me to be in. And probably you, to have the kids support us. But later, after everybody was gone and I was by myself, it was hard."
"Yeah, 'cause it's one day at a time but you look back and see it's been years and years and years," Dooris offered.
"Yeah. And then the footage of him before he was shot … cause you have a lot of that," Tammy said. "It was surreal — like I'd forgotten how that was."
Some of the kids gathered to watch old video clips on the 20th anniversary of their father's shooting. They also shared a photo of Damon from before — one of a strapping young man with a handlebar mustache and long curly hair.
In the years following the shooting, Damon forced himself to learn to talk and eat again. He threw himself into rehab, doing his level best to walk and move, at least somewhat.
Damon attended car shows and went on adventures with friends. He was able to walk down the aisle at both of his sons' weddings. He's been confined to a wheelchair for his daughters' weddings, but he's still here.
Tammy's still here as well. They married about 39 years ago.
"(He's) pretty good at keepin' upbeat — and he's always wanting to get out of bed, and then wanting to get back in bed," Tammy said, laughing. "You know you're old when that's all you dream about. It's in his eyes: 'Can I get into bed?'"
Faith in the face of trials
There's laughter, but it comes in spite of the pain. In 2011, Damon suffered from seizures, and doctors said he'd be lucky to live another year. Then, in 2016, a spinal cord issue caused by the bullet still lodged in his body threatened to take his life. He managed to survive that as well.
Earlier this year, Damon Coates was vomiting and choking, and soon his condition got so bad that he was placed on hospice care. After everything they've been through, Tammy isn't sure what to expect from the future.
"Even the past week he's flipped it around, so we just kind of go with the flow," she said. "I just pray that things happen organically and that I won't have to choose different things. Because when you work with hospice you realize different choices about the power that I have — I'd rather not have. It's difficult to grasp."
"So if you go by the person, it's up and down and changing all the time. So, we're just taking one day at a time and glad you're feeling healthy — you're not really in any pain, right?" she asked Damon. "I mean just aches and pains, but we've stopped therapy and we did things a little bit differently. But we're not sure what we're gonna do next."
A few years ago, the family moved to a new location in Oregon City. The property has a small barn that's since been converted into Damon's home. A medical aide helps him with his critical needs, like eating. Tammy and the kids help out as well.
Tammy stays in a small house nearby. She tries to stay positive, but she says that the grueling weight of the reality of their life gets more difficult to carry as the years go by.
"I would say the last three years have the most difficult for me. I'm not sure why," Tammy mused. "Maybe it's just my age or the length of time. But the loneliness set in pretty heavy and the agitation on his end — and of course, because you're frustrated you can't talk, you can't get your point across. You can't get to where you want to be, you need to be, even bathroom needs. So … the combination was brutal."
"But I'm starting to feel my strength come back and a new vision for him either being healed or him goin' home with the Lord, or whatever. This is our new normal. So I just have to pick out the good things. Wake up and focus on what I'm blessed with and thankful for – (it) helps me. Do I do it everyday? Hundred percent no!" Tammy laughed. "I don't do it every day, but when I do it just changes things."
Tammy leans on her church family. Their faith played a central role through the years. Ten years ago, Damon and Tammy met with his shooter, Teixeira, and prayed for him.
"We got in a circle — which they never let you do — in a circle with the family and him," Tammy recalled. "We held hands and we prayed over his life and it was miraculous, even the people there were in tears. It was just like, wow, you don't get the opportunity to do that after that many years of our life changing. But yes, his life changed too. So we just wanted to fill him with hope. And then, you've still got choices, with what you're going to do with your life and your hurts."
This is not the life that Tammy and Damon imagined when they married 39 years ago. But it is their reality. Tammy said that they work daily to find peace.
"I said back then — like, I have no bitterness now. I don't know if I ever will," Tammy said. "And thank God. I'm not dead yet, so there might be an angry period of grief or something but … I mean, that doesn't change a thing. You know? And like I said back then, he was a sick boy. I want him to be healthy. Him to not have you know, I think he has a child or two, not that unhealthy generation you know? You just want to have health in the next generation."
"So we definitely don't … I don't. I cant speak for you," she added, addressing Damon. "You all good? You all good with Nick and the people involved?"
Damon nodded his agreement.