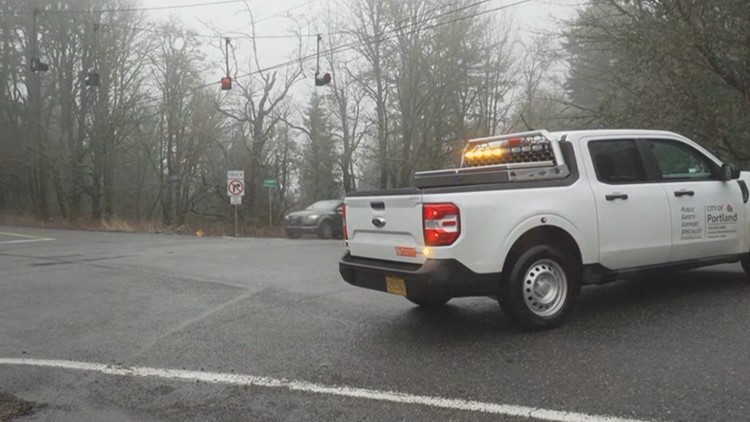 Michael Mazzi and Kerina Trabue entered an elderly couple's home off Northwest Skyline Boulevard and demanded they leave, Portland police said.
PORTLAND, Ore. — Two people are facing charges after entering an elderly couple's home in Northwest Portland on Monday, according to the Portland Police Bureau (PPB).
Officers initially responded to a report of a disturbance at a home in Portland's Forest Park neighborhood off Northwest Skyline Boulevard just before 11:30 a.m. As police were on their way, they learned from dispatch that two strangers had entered a man and a woman's home and demanded that they leave. The husband and the wife complied, PPB said, and officers found them locked outside of the house when they arrived.
PPB said the two suspects had access to weapons stored inside the house, so the Special Emergency Reaction Team (SERT) and Crisis Negotiation Team (CNT) were called in to assist.
The SERT team determined where the suspects were inside the house and tried to use robots to communicate with them, but the suspects ignored their attempts, PPB said. After several hours, a SERT unit eventually entered the house and took the suspects into custody. The couple was able to safely return to their home.
Police identified the suspects as Michael Mazzi and Kerina Trabue, both 33 years old. They were taken to the Multnomah County Detention Center on multiple charges including burglary and coercion. PPB said Mazzi also had five warrants out of Clackamas County and Trabue had a warrant out of Oregon City, but did not provide additional details.
Mazzi and Trabue are scheduled to appear in court Tuesday afternoon.
Northwest Skyline Boulevard was closed from Northwest Germantown Road to Northwest Springville Road during the incident. 
See a typo in this article? Email web@kgw.com for corrections